The DOG needs to join the
South African Working Dogs Association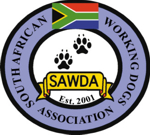 The South African Working Dogs Association is the umbrella body for a variety of dog sports within South Africa, of which the sport of Dog Dancing is one of them.
You need to register YOUR DOG with SAWDA, which is a once-off fee, and the dog will get issued a number for the life of that dog.

Here is your SAWDA REGISTRATION FORM

You deposit money into this account
SAWDA
Standard Bank, Account : 346663040, Branch : 053721

Then you fax or email your Registration Form and your proof of deposit to : Riette Mohr on :-
051 430 4957 or email on riette.mohr@wspgroup.co.za

Riette will then send you the SAWDA number allocated to your dog as a registered "doggy member"
The HUMAN needs to join the
South African Dog Dancing Association



The HUMAN who will be competing needs to register with the
South African Dog Dancing Associaition, and will also then be allocated a number.

Memebership is annual, and runs from June to July the following year, so each year the HUMAN needs to renew their
membership with SADDA.

You will then be allocated a SADDA number, and you will be issued with a Record Book, which you need to keep, and bring with you to each Titling Event.

Please visit the SADDA site for details to become a member.